Un livre avec des dessins de Georg Riesenhuber sur le Covid-19, issus de la plateforme covidmemory.lu.
Lorsque à la mi-mars 2020, le Premier ministre luxembourgeois Xavier Bettel proclama l'état de crise et des mesures de confinement strictes pour le pays, nul n'imaginait à l'époque, que le monde d'avant, tel que nous le connaissions, allait prendre fin ou du moins que certaines libertés auxquelles nous étions habitués, allaient prendre un autre visage et que notre quotidien serait dorénavant rythmé par le Covid-19.
Face à cette situation inédite, le Centre for Contemporary and Digital History (C²DH) de l'Université du Luxembourg lança une plateforme en ligne covidmemory.lu pour collecter des photos, vidéos, récits et témoignages, liés au Covid-19, de personnes résidant ou travaillant au Luxembourg. Il fallait garder la trace de ce que nous nous apprêtions à vivre, immortaliser ce moment inédit et documenter ce vécu hors norme, afin que les générations futures, mais aussi les historiens, puissent un jour analyser avec le recul nécessaire de quelle manière cette pandémie et les restrictions avaient changé notre vie et déstabilisé notre société.
Motivé par l'appel du C²DH, Georg Riesenhuber, architecte d'origine autrichienne vivant au Luxembourg, publia ainsi près de 120 dessins sur cette plateforme.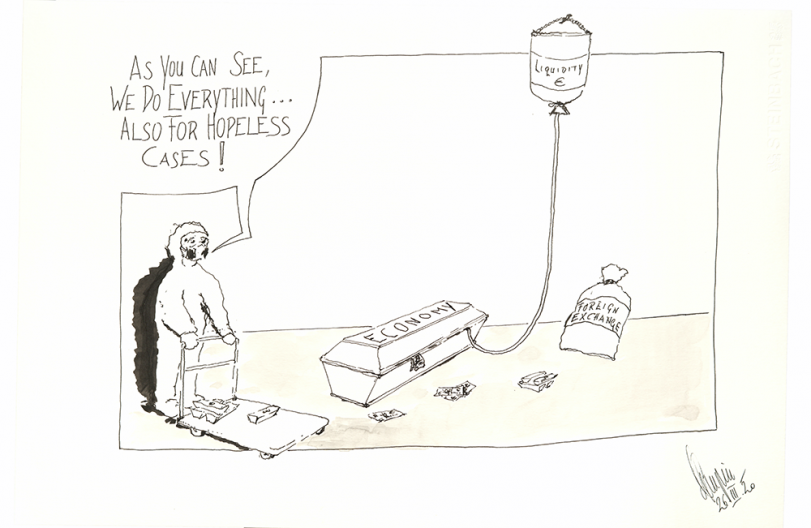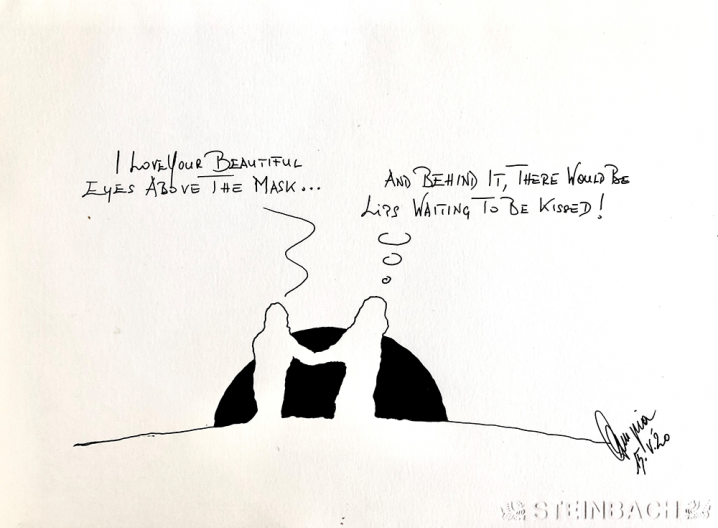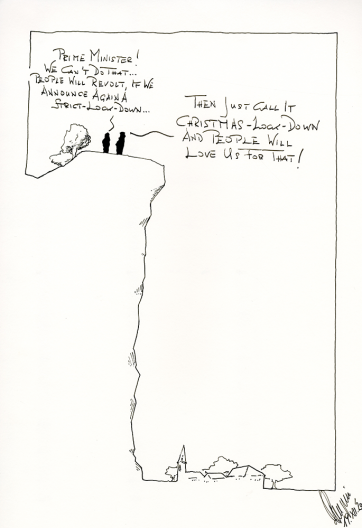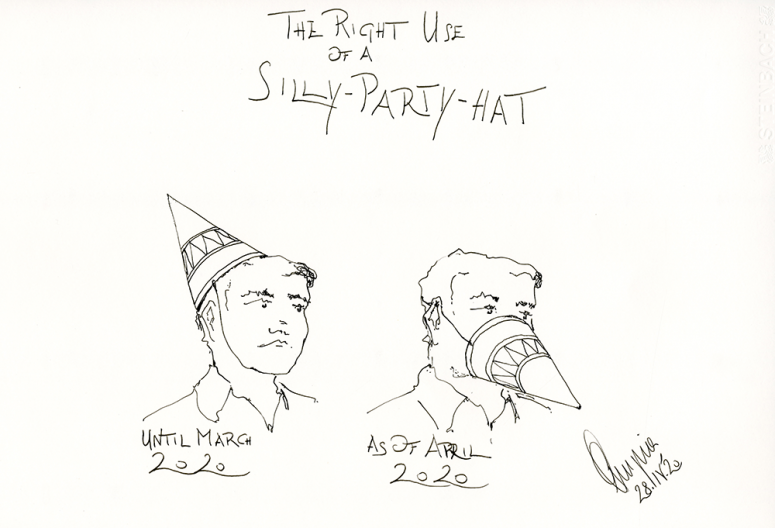 Un livre intitulé « Quarantine-drawings on the virus that never went viral » est né de cette coopération. Il permet de (re)découvrir des dessins, aujourd'hui recontextualisés, qui illustrent sur un mode sarcastique et décalé, comment le Covid-19 a bouleversé notre quotidien, nous a forcés à réinventer nos vies, à redéfinir nos relations professionnelles et familiales. Le regard porté sur la crise sanitaire, ses conséquences sociales et économiques, est aussi avant tout, un regard personnel, celui d'un citoyen lambda, confronté à ses propres interrogations et incertitudes face à l'ennemi invisible qu'est le Covid-19. Le ton se veut donc grinçant et ironique. Volontairement acerbes, mordantes d'impertinence, ses dessins dépeignent avec force et humour, les aléas d'un quotidien chamboulé. Le feutre devient le moyen pour exprimer et croquer ces moments de vie qui s'immobilisent face à une pandémie sans fin.
Pour Georg Riesenhuber, « le pinceau et l'encre de chine » sont devenus le moyen  « de lutter contre la sinistrose ambiante. » Tout en caricaturant le monde d'aujourd'hui, ses dessins restent aussi avant tout, un moyen de faire rire ou du moins sourire d'une situation inquiétante que nous ne maitrisons pas ou si peu. Oscillant entre dessins et caricatures, ils ne nous laissent pas indifférents et nous poussent finalement à la réflexion.
L'ouvrage réunit à côté des nombreux dessins de Georg Riesenhuber, les contributions écrites de Christiane Rainer (historienne et curatrice auprès du Volkskundemuseum, Graz), de Christa Roth (journaliste indépendante, Berlin), de Veronika Wolf (historienne de l'art) et de Martin Puntigam (cabarettiste, Graz). Les notices recontextualisant les dessins ont été rédigées par Marco Gabellini (historien, C²DH).
La présentation du livre « Quarantine-drawings on the virus that never went viral », se déroulera le samedi 9 octobre 2021, de 16h à 18h, à la librairie Alinéa à Luxembourg-ville.