The virtual exhibition developed by the C²DH retraces key aspects of the history and memory of the First World War in Luxembourg.
The digital exhibition Éischte Weltkrich: Remembering the Great War in Luxembourg is a project developed by the C²DH with the objective of addressing a neglected and understudied period in the history of the Grand Duchy.
Supported by the Ministry of State and bringing together the collections and expertise of all the major Luxembourgish museums, archives and cultural institutions, the project has progressively deepened and widened its scope, aspiring to become a long-term digital resource.
In order to engage different audiences with varying degrees of expertise and interests, the homepage presents four independent but interconnected modes of navigation: a thematic, story-driven mode; a digital archive; an interactive geo-referenced map and a timeline. Additional sections of the website contain educational pages for the schools and downloadable academic articles.
The overall structure of the exhibition remains flexible and open, allowing for the continuous integration of new material, either provided by institutions or crowdsourced.
Directors: Denis Scuto, Andreas Fickers
Curator and project coordinator: Sandra Camarda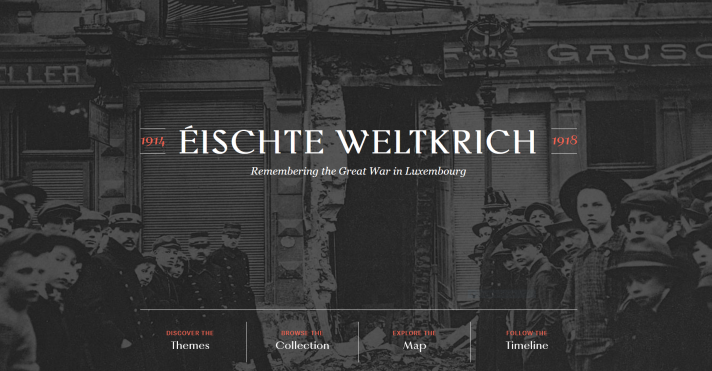 Éischte Weltkrich: Remembering the Great War in Luxembourg
Virtual exhibition, accessible in English, French and German.