The virtual exhibition was developed by the C²DH to mark the BGL BNP Paribas' centenary year. The retrospective covers the history of the bank from 1919 to today.
The exhibition covers the history of BGL BNP Paribas from its beginnings in 1919 to today, as well as its role and participation in the economy and development of the Grand Duchy of Luxembourg.
Called "BGL: L'histoire d'un siècle", the exhibition was designed and created in collaboration with the University of Luxembourg's Centre for Contemporary and Digital History (C²DH). It aims to give a modern, educational presentation of the bank's history in digital format that is accessible to a wide audience. The exhibition offers a variety of ways to find out more about the bank, such as a chronological overview in the form of an interactive timeline of the bank's history within the political and socio-economic context of the time; a map graphic showing the expansion in bank locations over time; and thematic files on the bank's architecture, brand and professions.
For this project, university researchers were able to access the bank's archives to help them compile a dossier of texts, documents, images, photos and videos. The research project is also linked to a doctoral thesis on the history of BGL BNP Paribas in Luxembourg. It is scientifically important and relevant research for the historiography of the country given the significant role of BGL BNP Paribas as a catalyst in both the Luxembourgish economy and the development of Luxembourg as a financial centre.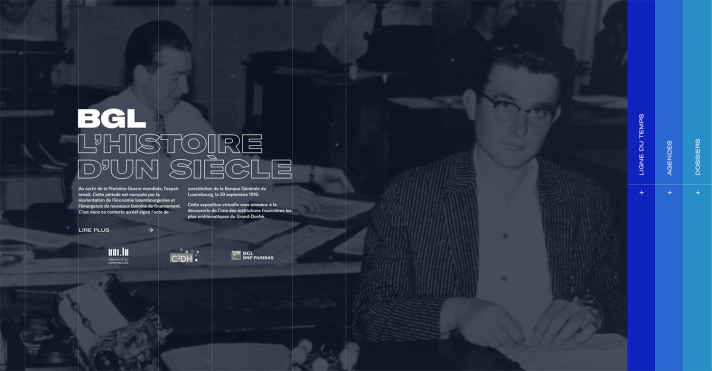 Visit the exhibition
Take a virtual tour and browse through 100 years of BGL history. Explore the architecture, the brand and the banking activities.