Musician Aleksander Kolkowski, media historian Tim van der Heijden and C²DH Director Andreas Fickers spoke to Hanna Siemaszko, the producer of the SciLux podcast on science in Luxembourg, about their experiences and their thoughts on experimental media archaeology as a practical and sensorial approach to media historiography. 
Exploring visual and audio media technologies of the past
The goal of the DEMA project was to explore the heuristic potential of historical re-enactments and hands-on experiments as an object-oriented and sensorial approach to the study of past media technologies and their histories of use. The project included two complementary studies that explored visual and audio media technologies: DEMA researcher Aleks Kolkowski focused on historical sound amplification devices from the pre-electronic era, while Tim van der Heijden investigated visual media technologies, including early 20th-century home cinema and amateur film devices.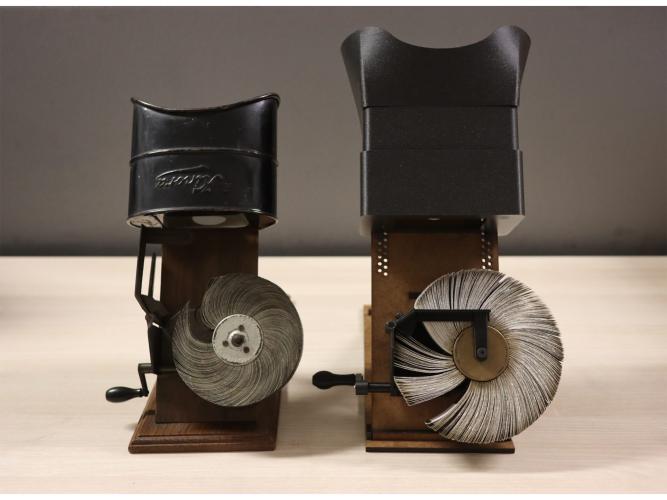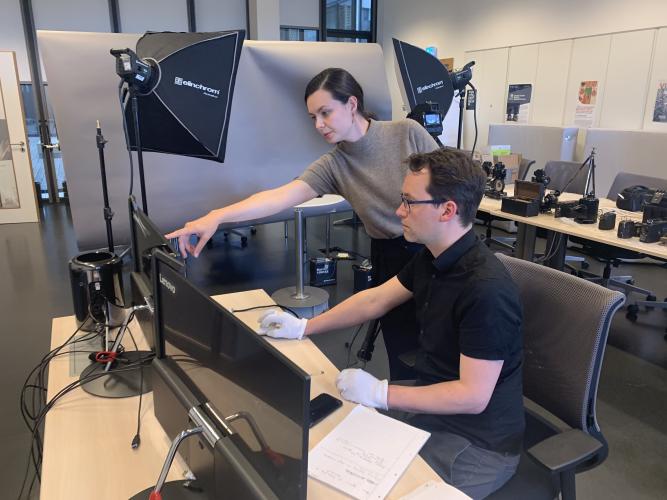 Tim van der Heijden focused on an individual viewing machine, a Kinora, which was one of the first motion technologies designed for home use in the late 19th century. To gain a better understanding of how the Kinora works and how it was made and used in the past, the media historian worked with the Department of Engineering at the University of Luxembourg to produce a working replica of this special object in the history of early cinema. By combining historical enquiry with a hands-on technical approach, the process of replicating the Kinora turned out to be very useful for understanding the device's mechanism and unique characteristics. Tim furthermore conducted hands-on experiments with a Pathé Baby, a 9.5mm film projector and home cinema technology from the early 1920s.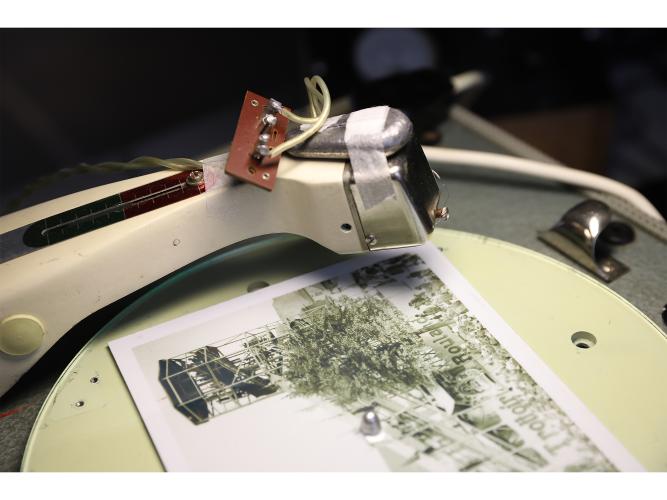 Aleks Kolkowski investigated the histories of use of early to mid-20th-century sound recording and amplification technologies. The HMV 2300H portable disc recorder designed for small studios and the Wilcox-Gay 1C10 Recordio, a hybrid tape and disc recorder aimed at musicians seeking to make demo records, are two historical technologies that served as models for exploratory work on the practical experience of recording on disc and tape. Aleks' work with the Cartovox sound postcard recorder involved having to recreate the recordable postcard medium from scratch, and he re-enacted the live recording of sound postcards with the public at the C²DH Temporary History Lab in Esch-sur-Alzette. 
Two-
book set
: "
DEMA: Practice & Theory
"
The methodological underpinnings of these media archaeology experiments and re-enactements are reflected in a two-book set published by De Gruyter Oldenburg:
Doing experimental media archaeology – Theory by Andreas Fickers, Director of the C2DH Luxembourg; Annie van den Oever, Faculty of Arts, Arts Culture and Media, University of Groningen. 
Doing experimental media archaeology – Practice by Tim van der Heijden, Open University of the Netherlands; Aleksander Kolkowski, Science Museum, London. 
Both volumes are in open access. 
DEMA events in 2022
In 2022, two major events were organised in connection with the DEMA project. On 7 September, a Forum Z called "Re-do, re-make and re-imagine" took place at the Kulturfabrik in Esch-sur-Alzette. This conference introduced the public to the exciting objects that the DEMA project was working and experimenting on, including improved phantasmagoria lanterns, an original and replica Kinora, and compressed-air gramophones with a newly built, 3D-printed giant exponential horn.
Over the next few days, an international conference, "Doing Experimental Media Archaeology: Practice & Theory", took place at the Science Center in Differdange with the participation of Erkki Huhtamo (UCLA), Lori Emerson (University of Colorado Boulder), Sean Williams (Open University) and Liri Chapelan (Caragiale National University of Theatre and Film, Bucharest).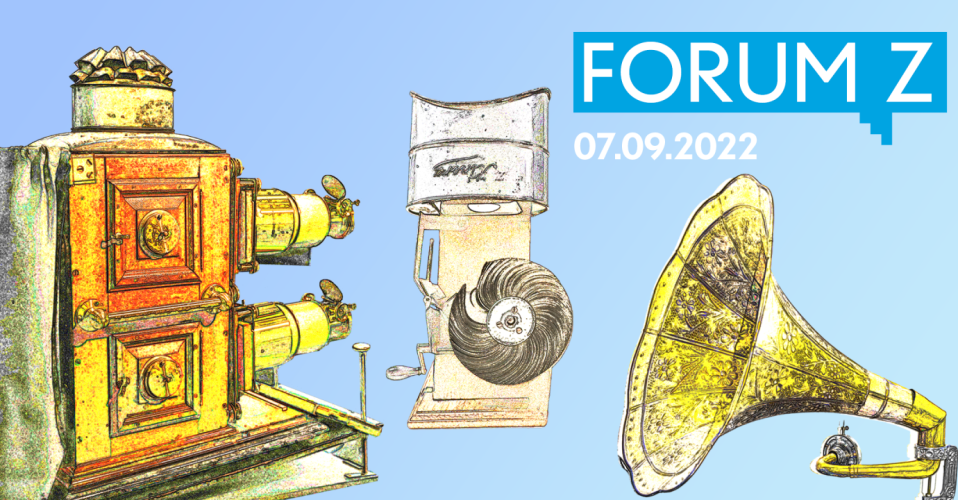 This experimental part of the conference also included art installations by Guido Devadder (Luca School of Arts), Luuk Schröder (Minerva Art Academy), and Ana David Mendes (University of Coimbra), as well as screenings of short documentaries by the artists Bernie Lubell and Peter Domankiewicz.
The conference ended with a unique twist by giving the attendees hands-on and experimental access to various media artefacts, including optical toys and an interactive 3D monitor from the Film Archive & Media Archaeology Lab at the University of Groningen and a series of 18th-century 'optical machines' brought in from St. Francis Xavier University, Nova Scotia.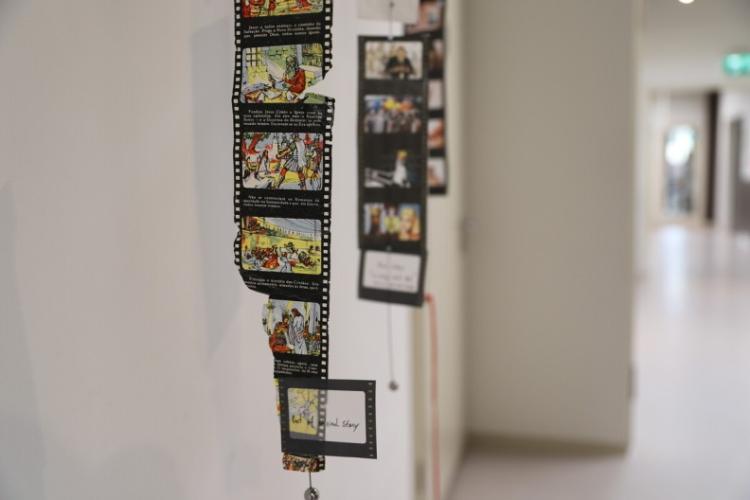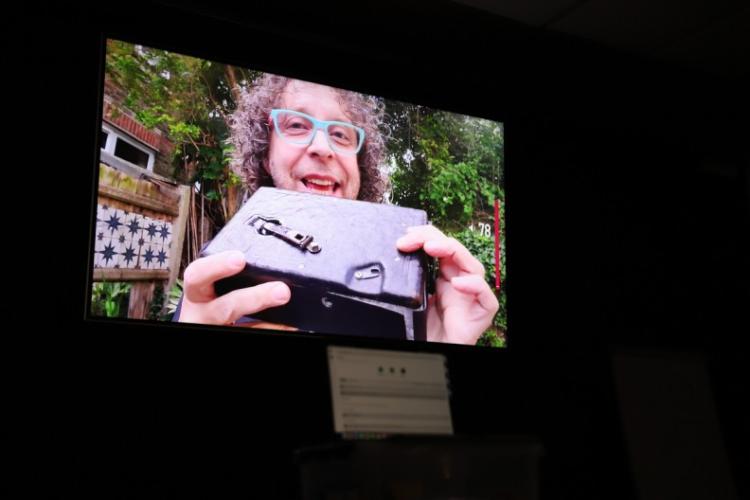 More publications in 2022
13 December 2022 

–

The article 

"

Thinkering with the Pathé Baby: Materiality, histories and (re)use of 9.5mm film

"

, written by DEMA researcher Tim van der Heijden in collaboration with film archivist Mirco Santi, 

was

published in the latest issue of

NECSUS 

–

European Journal of Media Studies

.

13 October 2022

–

The article "'Live Forever in the Kinora': Motion Photography in between Pre- and Early Cinema", written by DEMA researcher Tim van der Heijden, 

was

published in the volume

Virtual Worlds in Early Cinema: Devices, Aesthetics and Audiences

, edited by Ángel Quintana 

and

Jordi Pons. The volume is a collection of papers presented at the conference 

"

Virtual Worlds in Early Cinema

"

organi

s

ed by the Museum of Cinema and the University of Girona from 20 to 21 October 2021.

22 April 2022 

–

The article 

"

Replicating the Kinora: 3D modelling and printing as heuristics in digital media history

" was 

published in 

o

pen 

a

ccess of the

Journal of Digital History

. The article is the result 

of 

collaboration 

for the DEMA project 

between DEMA researcher Tim van der Heijden and engineer Claude Wolf from the Department of Engineering 

at

the University of Luxembourg.

12 January 2022 

–

 "Forget Steampunk" by Aleksander Kolkowski. DEMA researcher Aleks Kolkowski was interviewed by journalist Jeff Palms for

Delano

in 

a

utumn 

2022

about his use of historical sound recording technologies.